PISA welcomes Dr. Connor Martin
Pain Institute of Arizona is pleased to welcome Dr. Connor Martin! He will join our team of renowned Interventional Pain Management Specialists on August 1, 2023. View bio.
Request an appointment now.
Congratulations to Dr. Efrain Cubillo
Congratulations to Dr. Efrain Cubillo as a 2023 Top Doctor of Arizona!
Go to Aztopdocs.com to find Dr. Cubillo's listing.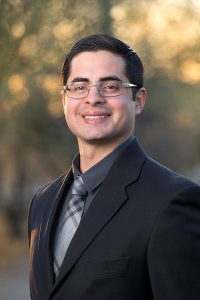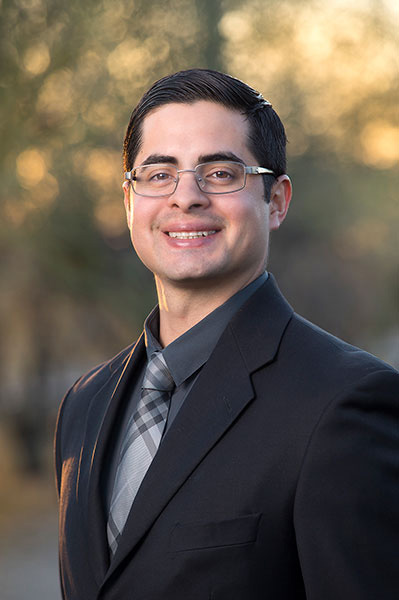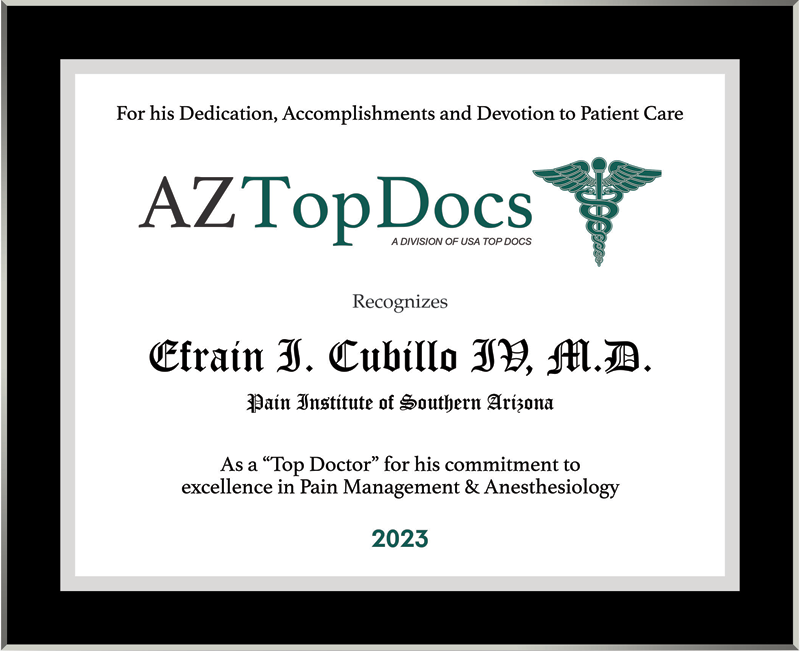 CME Conference on Pain Management: New Indications and Improved Therapies.  Saturday, April 22, 2023
It was a perfect spring day for the Pain Institute of Southern Arizona to host their CME Conference on Pain Management: New Indications and Improved Therapies. The Hacienda Del Sol provided us with a beautiful venue, we had a great attendance from our local Physicians and APP's. This conference not only provided the opportunity to learn about new innovations available in pain management, but it was a great way to network and engage with other providers in the area.
Our expert panel of doctors discussed different Pain Management therapies and the continuing innovations available to treat chronic pain.
A special thank you goes out to our Keynote speaker Dr. Ahmed Zaafran. Dr. Zaafran's presentation on the importance of mental health and how it is an integral part of pain management was inspiring.
We extend our gratitude to our wonderful CME conference sponsors, as we couldn't host this event without them.
Platinum Breakfast Sponsor: Abbott
Gold Sponsor: Medtronic
Silver Sponsors: Lucid Lane, Vertos Medical and Sprint/SPR
Bronze Sponsors: Nalu, SimonMed and Veritas Pharma
Click photos to view larger
PISA is proud to utilize Abbott's new rechargeable SCS system
Pain Institute of Southern Arizona is proud to utilize Abbott's new rechargeable SCS system. It provides an opportunity to give our patients time back in their daily lives with the convenience of recharging as few as 5 times per year.
The Eterna™ SCS System is Abbott's latest patient-centric advancement that offers patients the lowest recharge burden on the smallest rechargeable IPG. The Eterna SCS System is also powered by BurstDR™ stimulation, which is clinically proven to improve people's everyday activities and provide superior relief from both pain and its associated suffering. It is also the only waveform with level 1A evidence of superiority to traditional tonic stimulation. Abbott's new rechargeable SCS system provides an opportunity to give patients time back in their daily lives with the convenience of recharging as few as 5 times per year.
Additionally, Abbott's recently FDA-approved Eterna SCS System is built on a platform with features designed to fit into our patients' lives, including:
Smallest rechargeable implant profile: Measures 13.79cc and is up to 58% smaller than competitive rechargeable SCS systems
Zero-volt technology:  Enables the battery to recover when it is fully depleted
Upgradeable technology: Gives access to the latest software without replacing the implant
Upgradeable TotalScan™ MRI technology: Allows patients to safely undergo full-body MRI scans
Apple iOS smartphone integration: Helps patients discreetly adjust therapy on the go and shows real-time battery life and charging status.
Eric G. Cornidez, MD, MBA, has been Inducted into the Prestigious Marquis Who's Who Biographical Registry
Dr. Eric Cornidez has been inducted into the prestigious Marquis Who's Who Biographical Registry for his achievements, leadership qualities, and dedication to excellence in the medical field. Congratulations to Dr. Cornidez for the well-deserved honor!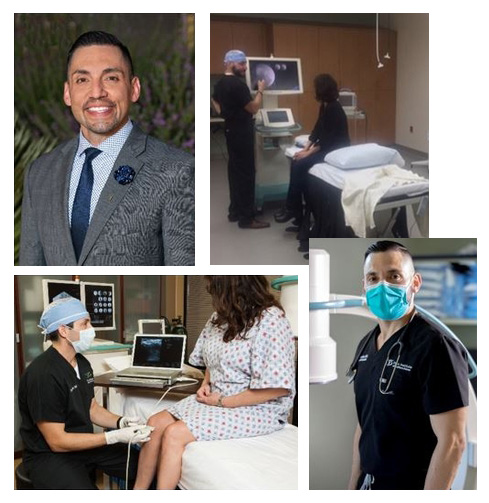 Advanced Practice Providers Educational Dinner
The physicians at the Pain Institute of Southern Arizona are dedicated to sharing their expertise in the latest advancements that are proven to help patients suffering from chronic pain. Dr. Cornidez recently had the opportunity to teach a group of Advanced Practice Providers at an educational dinner in El Paso, Texas. He discussed the indications for Burst Dorsal Column Spinal Cord Stimulation and DRG Stimulation for Abbott.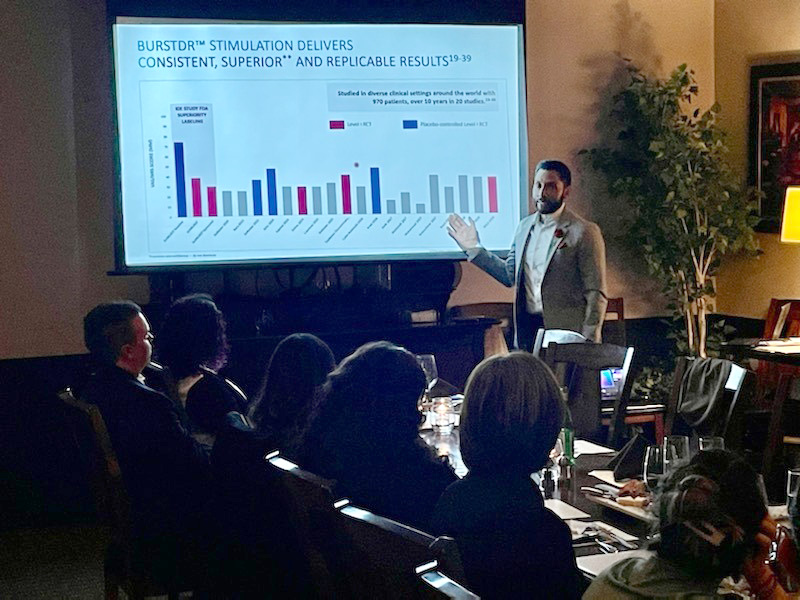 ABBOTT DRG Course in Columbia
The great country of Columbia hosted the first Abbott DRG course, which is a huge advancement in their treatment options for chronic pain. Dr. Eric Cornidez said, "I was honored to facilitate the course, which was comprised of some of the most passionate, talented, and humble Interventional Pain Physicians and Neurosurgeons I've ever met. Thank you to Abbott and the beautiful country of Columbia for the opportunity."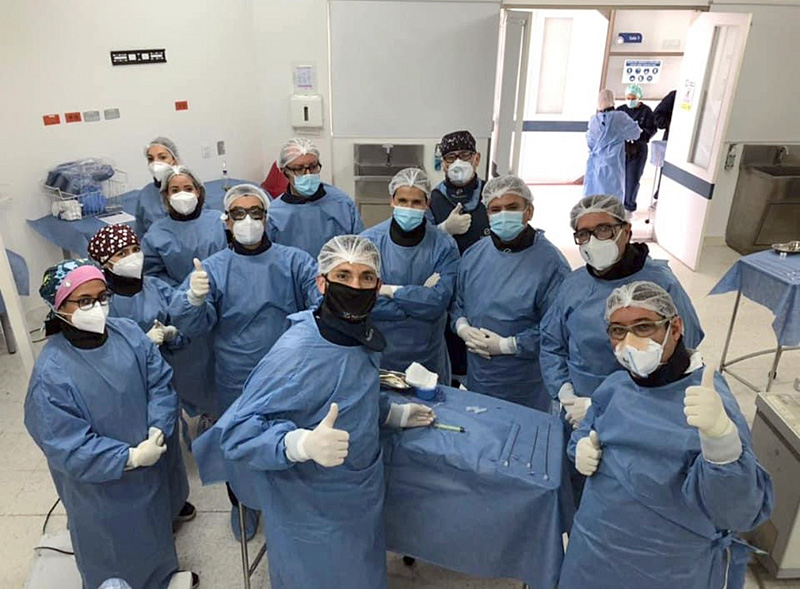 Vertiflex Procedure
The physicians at the Pain Institute of Southern Arizona are the first ones in Southern Arizona to perform the Vertiflex procedure, a long-lasting solution to the symptoms of lower back pain. Clinically proven and FDA-approved, the treatment provides relief by lifting pressure off the nerves to alleviate leg and back pain. If you or someone you know is suffering from lower back and leg pain, call us today at 520-999-9000 to see if this is the right treatment for you.
You can view recordings of previous educational webinars on this procedure by visiting our Webinar Library page: https://pisapain.com/webinars/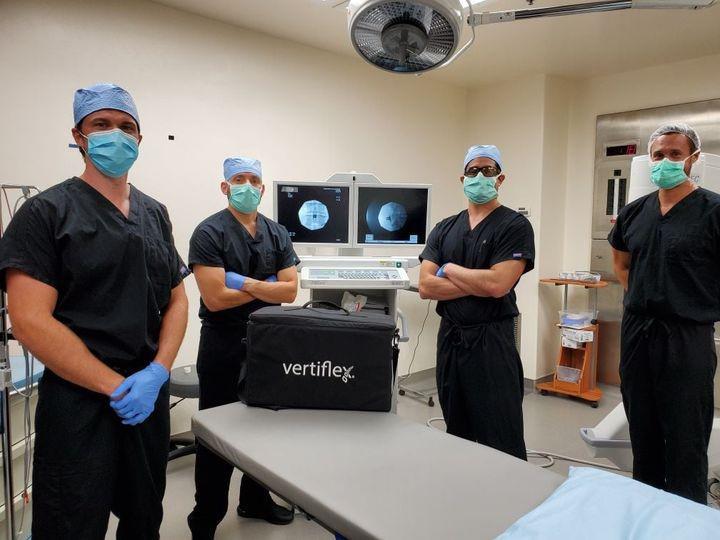 Hispanic Heritage Month
Celebrating Hispanic Heritage Month, Channel 12 news in Phoenix is honoring the contributions of Hispanic Americans to Arizona culture. They featured a story on Dr. Cornidez, who knew early on that medicine and health care was his calling.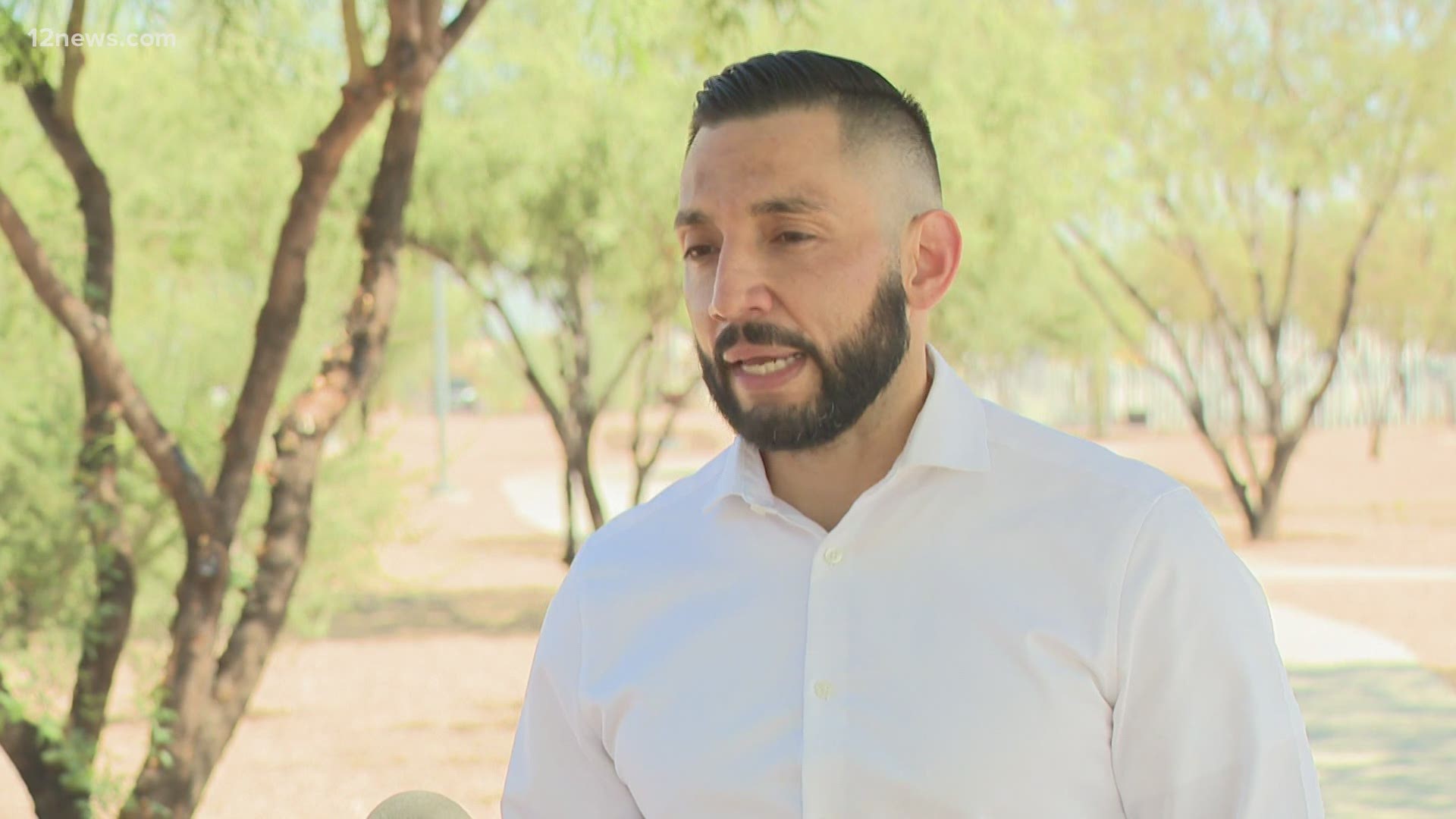 Copper Cactus Awards
Dr. Cornidez has been named a finalist in the Tucson Metro Chamber Copper Cactus Awards, as Small Business Leader of the Year!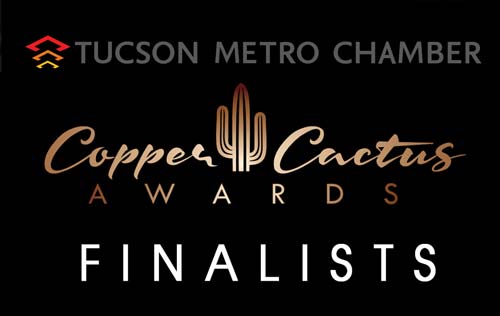 Pima County Mask Up Campaign
Dr. Cornidez was asked by Pima County to be part of the Pima County Mask Up Campaign!
Pima County is getting Back to Business, but the fight against COVID-19 is far from over. Do your part to slow the spread. Wearing a face mask is one of the simplest, most effective ways to slow the virus, but we need everyone to do it. Stay safe, mask up, and make a difference.
Senza® Omnia™ System
The Pain Institute of Southern Arizona is among the first pain management practices in the United States—and the only practice in Southern Arizona—to offer the Senza® Omnia™ system, a new spinal cord stimulation (SCS) therapy for the treatment of chronic pain. Omnia™ was recently approved by the FDA and is the most versatile SCS treatment solution available. Dr. Cubillo, Dr. Cornidez and Dr. Gossler have training from world-class institutions such as the Mayo Clinic, Stanford and Harvard, and are highly skilled in the most advanced technologies and techniques available today.
PBS In-depth Opioid Story
PBS featured an in-depth series on the opioid epidemic and the devastating impact on Southern Arizona. They asked to speak with Dr. Cornidez for expertise and guidance on this episode which focuses on alternatives to opioids. Monica, one of his patients, also discusses her experience with debilitating pain and how Dr. Cornidez helped her get her life back with treatments called neuromodulation and platelet-rich plasma therapy. Check out the story which aired on PBS.
The Morning Blend
Dr. Cornidez was on The Morning Blend—check out the segment that aired on Monday! Dr. Cornidez talks about the practice, our mission, and the advancements in treating chronic pain. If you are interested in attending the education seminar on November 14th, call to RSVP at 520-318-6035.
KVOA Medical Minute
Check out our latest KVOA Medical Minute! Dr. Gossler talks about our radiofrequency ablation (RFA) procedure to treat arthritis of the lower back. He has been performing this treatment for over twenty years with excellent results.
Community Education Seminar
Dr. Cubillo and Dr. Gossler spoke at our latest community education seminar. They discussed the benefits and techniques of neurostimulation and the new advanced technology that is now available. We offer HF10—a technology that is backed by rigorous clinical data showing a significant improvement in pain relief as compared to traditional spinal cord stimulation. The device is the first FDA approved system that is paresthesia-free. Thank you to Monica—Dr. Cornidez's patient—who shared her story and how HF10 helped get her life back. If you were previously trialed and/or implanted with a traditional spinal cord stimulator, this new technology may benefit you. Call us at 520-999-9000 if you would like to schedule a consultation.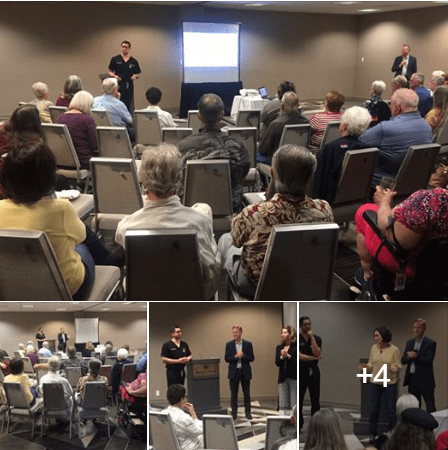 Annual SaddleBrooke Health Fair
Dr. Cornidez and Dr. Cubillo presented to a full house at the Annual SaddleBrooke Health Fair last weekend. Their presentation entitled 'Spinal Cord Stimulation: Advancing Innovation for Chronic Pain' captured the interest of SaddleBrooke residents. Over 1,000 people passed through the exhibitor hall. We enjoyed visiting with many existing patients and meeting people whom we welcome as new patients. A very fun and educational day!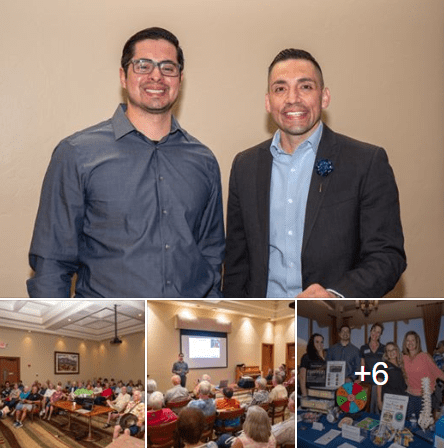 Business Man of the Year
Check out the Fall 2019 issue of Biz Tucson Magazine, and read the great article on Dr. Cornidez being named Business Man of the Year! Congratulations, Dr. Cornidez on your well-deserved achievement!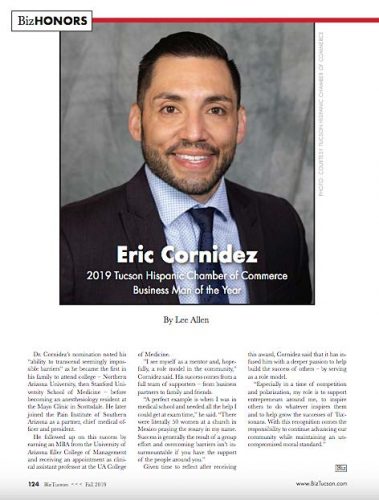 Copper Cactus Award in Business Growth
It is with so much pride, excitement and enthusiasm that we announce the Pain Institute of Southern Arizona has been named the WINNER of the prestigious 2019 Tucson Metro Chamber Copper Cactus Award in the category of Business Growth (51 to 200 employees). It is an honor to be named by the judges as the winner! There are so many reasons why we have experienced such phenomenal growth and earned this achievement. Our amazing physicians and nurse practitioners. Our dedicated leadership and management team. Our superior medical assistants and staff. And of course, all of our patients who trust us with quality care. This award is a testament that we continue remain true to our mission: Through compassion and innovation, we will make a contribution in the lives of individuals and communities.
Vantage West's Thrive Tucson Business Spotlight
Dr. Cornidez was interviewed for the Vantage West's Thrive Tucson Business Spotlight. Dr. Cornidez was able to sit-down with their host, Karla Escamilla, to discuss how he was able to get his business up and running, difficulties he encountered along the way, and lessons learned. The purpose of the interview is to educate current and future business owners through the experiences of a successful Tucson business.