PISA offers Nalu's novel micro-IPG for PNS & SCS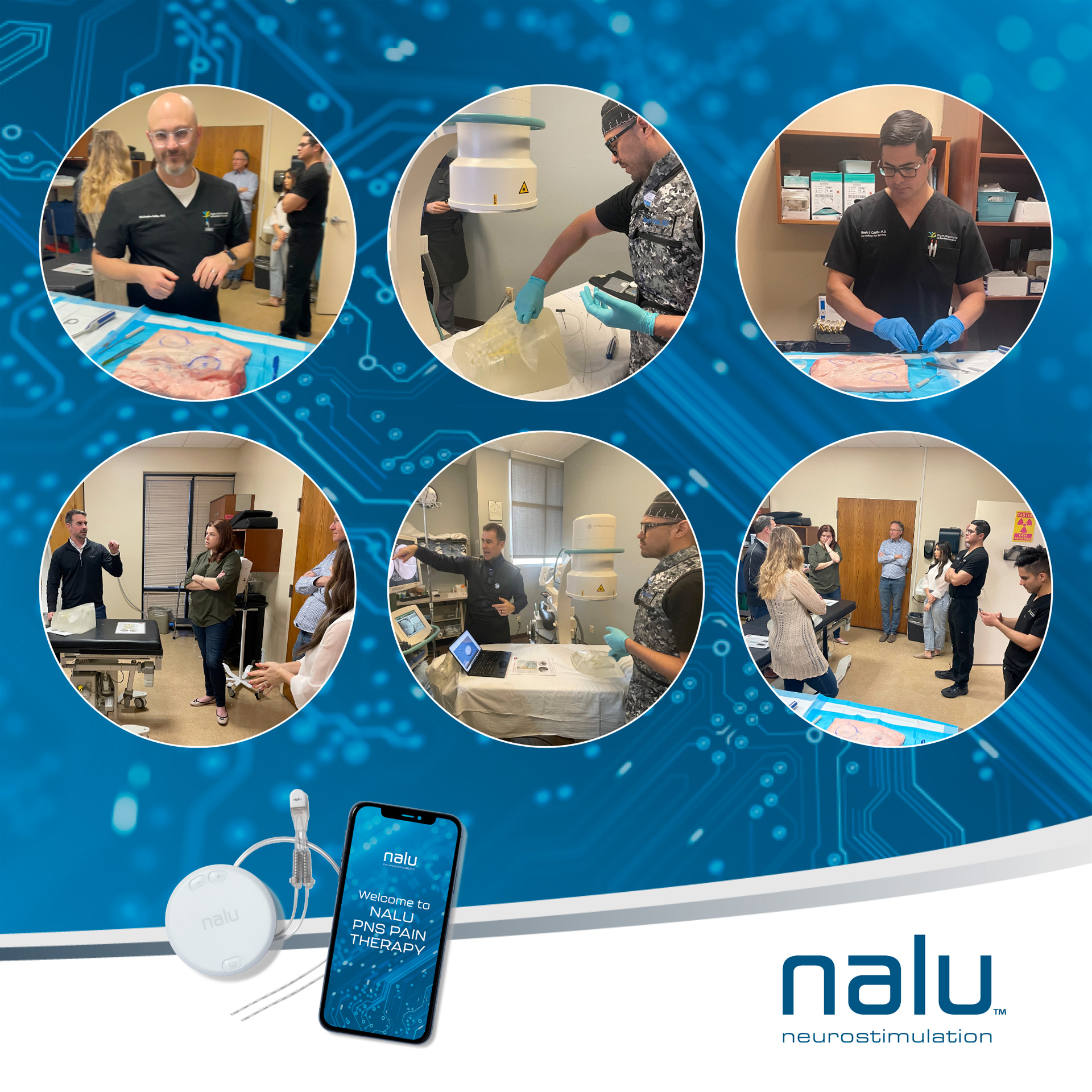 Pain Institute of Southern Arizona is proud to offer chronic pain patients the Nalu Neurostimulation System utilized for Peripheral Nerve Stimulation and Spinal Cord Stimulation.
The small size and extraordinary capabilities of the Nalu Neurostimulation System gives patients more options for managing intractable chronic pain. The Nalu micro-IPG leverages proprietary advanced microelectronics to produce a pain management system that reduces chronic intractable pain while minimizing interference with the patient's life. Utilizing an external battery and a micro-IPG with the smallest footprint among commercially-available IPGs may mitigate some of the most troublesome aspects of implantable neurostimulation therapy.
Advantages of the Nalu Neurostimulation System
The exceptional capability of the Nalu System may provide long-term pain relief where other treatments have failed.
Small size with extraordinary capability
The tiny Nalu micro-IPG contains advanced microelectronics that enable it to deliver therapy equal to larger IPGs along with exceptional therapy modes, waveforms, and upgradability.
Minimally invasive procedure
The small size of the Nalu micro-IPG allows a minimally invasive procedure that promotes rapid healing and minimal scarring compared to conventional IPGs, which can be up to 27 times larger.
Reduced pain around implant site
Pain may develop around the implant site (called pocket pain) with conventional IPGs because they are much larger than the Nalu micro-IPG and can irritate the surrounding tissue. 1, 2, 3 Clinical studies have suggested that a smaller IPG may reduce the likelihood of pocket pain.
Longest service life
With an FDA-cleared minimum service life of 18-years, the Nalu micro-IPG has the longest expected service life among commercially available chronic pain IPGs in the US. And because the battery is worn outside your body, surgery is not required to replace a depleted or malfunctioning battery.
Wearable technology
A battery and control system are both contained in a small Therapy Disc that you wear outside your body in a comfortable holder that is positioned over the implanted IPG. The system comes with 2 Therapy Discs. You can wear one while the other one is charging, then simply switch them when the one you are wearing needs to be recharged.
Extremely comfortable
In an ongoing clinical study, 4 patients were asked to rate the comfort and usability of the Nalu system using a 10-point rating scale where 0 represented "very comfortable" or "very easy to use" and 10 represented "very uncomfortable" or "very difficult to use." At 90 days, the average rating for comfort was 0.4 and the average rating for usability was 0.5, indicating that patients found the device comfortable and easy to use.
You control when you wear the battery
You can remove the Therapy Disc and Adhesive Clip any time you don't need active stimulation or want to wear a swimsuit or tight-fitting clothing.
Easy to update
The operating software of the Nalu System can be updated as easily as updating the programs on your smartphone. That means you will be able to take advantage of future therapy advancements and additional system capabilities when they become available.
Smartphone control
Your pain can vary based on your activities and the time of day. With the Nalu System, you can adjust your therapy from the Nalu Remote Control Application on an iPhone or Android smartphone.
You can "test drive" the system to see if it reduces your pain
You can try Nalu PNS Therapy on a temporary basis before you decide to have the permanent system implanted. During this short trial period, you will be able to experience how well the Nalu System may relieve your pain during different activities. After the trial, you and your doctor will decide if you should proceed with a permanent implant.
1 Mekhail NA, Mathews M, Nageeb F, Guirguis M, Mekhail MN, Cheng J. Retrospective review of 707 cases of spinal cord stimulation: indications and complications. Pain Pract. Mar-Apr 2011;11(2):148-53. doi:10.1111/j.1533-2500.2010.00407.x

2 Dietvorst S, Decramer T, Lemmens R, Morlion B, Nuttin B, Theys T. Pocket Pain and Neuromodulation: Negligible or Neglected? Neuromodulation. Aug 2017;20(6):600-605. doi:10.1111/ner.12637
3 Choi H, Gaiha R, Moeschler SM, et al. Factors Associated With Implantable Pulse Generator Site Pain: A Multicenter Cross-Sectional Study. Neuromodulation. Dec 2021;24(8):1351-1356. doi:10.1111/ner.13317
4 Ruais J, Amirdelfan K, Levy R, Poree L, Staats P. Evaluation of a Novel Externally-Powered Microstimulator SCS System: Comfort and Ease-of-Use Data (nPower™ Study). presented at: New York and New Jersey Pain Management Symposium; 2021; Jersey City, NJ. Session Evolving Advanced Pain Therapies.