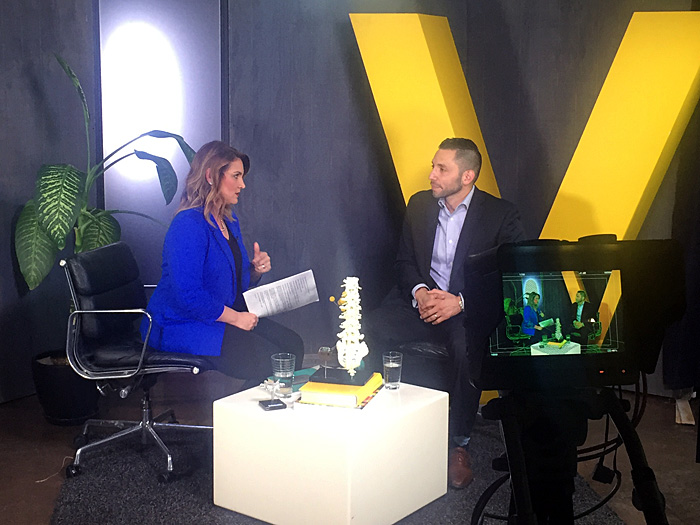 Dr. Cornidez on Vantage West's Thrive Tucson Business Spotlight
Dr. Cornidez was interviewed for the Vantage West's Thrive Tucson Business Spotlight. Dr. Cornidez was able to sit-down with their host, Karla Escamilla, to discuss how he was able to get his business up and running, difficulties he encountered along the way, and lessons learned. The purpose of the interview is to educate current and future business owners through the experiences of a successful Tucson business.
Dr. Cubillo on the Morning Blend
If you missed it, Dr. Cubillo was on the Morning Blend!  He spoke about Kyphoplasty, a procedure used to treat compression fractures. Watch the entire interview!
To learn more about Kyphoplasty visit the "Pain Conditions and Procedures" tab.
Pain Management: New Strategies, Tools and Techniques
The Pain Institute of Southern Arizona held its 2nd Annual Pain Conference for providers in Tucson and the surrounding communities.  We feel it is important to share with community providers, recent advances in pain management and explore treatments available for providers to offer their patients.
The conference highlights different aspects of pain management, such as PRP Injection Therapy, Medical Marijuana and Pain Management, Dorsal Root Ganglion Stimulation and the Advances in Spinal Cord Stimulation, Opioid Management and Government Guidelines, and our Keynote speaker Dr. Steven D. Passik's presentation was titled "Opioid Therapy at a Time of Crisis". With over a 25-year academic and clinical career at Memorial Sloan Kettering Cancer Center, University of Kentucky and Vanderbilt University, Dr. Passik's research has focused on psychiatric aspects of pain and symptom management and the interface between pain management and addiction.
Congratulations to Dr. Eric G. Cornidez!
Congratulations to Dr. Eric G. Cornidez for receiving the award for 40 under 40 from the Hispanic Chamber of Commerce and the Arizona Daily Star. The award recognizes young leaders who are making an impact in the community with their professional and charitable work.
We appreciate your passion and commitment to serving Tucson and the surrounding community. You make a difference.
Back Pain Solutions: Spinal Cord Stimulation Seminar
Photo of Dr. Efrain Cubillo, Dr. Joseph Christiano and Dr. Eric Cornidez at the Back Pain Solutions: Spinal Cord Stimulation seminar at Carondelet Neurological Institute, St. Joseph's Hospital on Tuesday, September 12th. Click to watch Seminar Video.